Case Batbusters Fastpitch Softball 2017-2018 Raffle Fundraiser


Drawing Date: 12/17/2017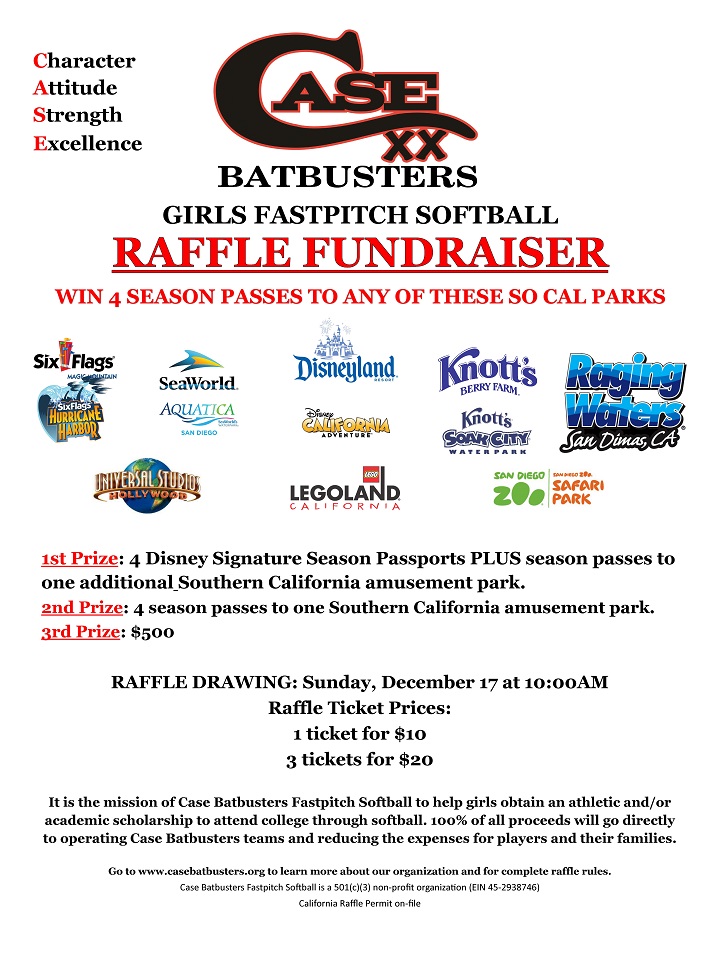 Official Rules:

1. RAFFLE TICKET PURCHASE IS NECESSARY TO ENTER OR WIN. The purchase price has been set at $10.00 for one ticket; $20.00 for three tickets.
2. ELIGIBILITY: The Raffle is open only to legal residents of the 50 United States and the District of Columbia, who are 18 years of age or older at time of purchase. Board Members and employees of Case Batbusters Fastpitch Softball (CBFS) and their immediate family members (defined as spouse, child or other family member living in the same household) are NOT eligible to enter the Sweepstakes.  Volunteer coaches, players and their family members are NOT considered employees of CBFS.  Therefore, those individuals are eligible.
3. TIMING: The raffle begins at 12:01 a.m. Pacific Time ("PT") on 09/01/17 and ends at 11:59 p.m. PT on 12/16/17.  CBFS reserves the right to extend the raffle period, without notice, and solely at the discretion of CBFS.
4. HOW TO ENTER: No entry limit per person. Entry is available by purchasing raffle tickets from individual CBFS players, their families or representatives. To enter, contact a CBFS player/representative.  Refunds will not be issued.
5. PRIZE: Prize(s) are subject to change, without notice.  The following prizes are anticipated to be available to be awarded based on the winners selections.  First prize: Four (4) season passes to any two (2) Southern California amusement parks (if available as an option by the selected amusement park).  Second prize: Four (4) season passes to one (1) Southern California amusement park (if available as an option by the selected amusement park).  Third prize: $500.  "Southern California Amusement Park" annual passes include: Disney Signature Passport (first prize only); Six Flags Magic Mountain/Hurricane Harbor Gold Two-Park Pass; Universal Studios Hollywood Gold Annual Pass; Knott's Berry Farm/Soak City Platinum Season Pass; Raging Waters VIP Season Pass; Sea World+Aquatica San Diego Annual Pass ; Legoland Merlin Annual Pass Premium; and/or San Diego Zoo/Safari Park Keeper's Club Annual Pass.  Ticket titles/descriptions are subject to change.  Actual park passes will be based on offers available from the selected park(s) at the time of purchase.  Passes will be purchased after the winner(s) are drawn, and after the winner(s) select their prize(s).  Specific annual pass options may be added/deleted at the discretion of CBFS.
First prize and second prize winners have the option of accepting a cash prize in lieu of season passes.  Cash prizes will be paid at 75% of the value the highest value season passes at the time of the drawing.
The prize is nontransferable and must be accepted as awarded. No cash or other substitution may be made, except by CBFS in the event that a prize or part thereof cannot be awarded for any reason. This event is a fundraiser for CBFS [a 501(c)(3) non-profit California corporation].  Winner is solely responsible for any and all applicable federal, state, and local taxes (including, where applicable, sales tax) due for an awarded prize.

6. RANDOM DRAWING: A winner will be selected by CBFS in a random drawing from all eligible entries received. By entering Raffle, participants agree: a) To be bound by these rules; b) that winning is contingent upon fulfilling all the requirements of these rules; c) that the decisions of CBFS shall be final and binding in all respects. Odds of winning depend on the total number of eligible entries received.  The date of the drawing is scheduled for December 17, 2017.  Any change to the scheduled drawing date will be announced on the CBFS website Raffle Page prior to the drawing.
7. NOTIFICATION: If present, winner will be notified at the time of drawing. If not present, winner will be notified based on the information entered on the ticket stub.  The winning ticket number will also be posted on the CBFS website Raffle Page (www.casebatbusters.org/pages/raffle).  Winner will have 30 days to claim the prize and (if applicable) notify CBFS of their selection(s).  CBFS will have 30 days to purchase and present prizes to the winners.  CBFS will attempt to contact winner based on the information entered on the winning ticket stub.  If, after 30 days from the drawing, winner has not been contacted, CBFS will hold one additional random drawing to select a winner.  Potential winner does not need to be present to win. Winner must correctly complete, execute and return as directed an Affidavit, Waiver, Release and Indemnity Agreement including, where lawful, a Publicity Release (plus any additional documents required at the sole discretion of CBFS). Failure to comply with the requirements of this paragraph (or the return of any prize or prize notification as non-deliverable) may result in disqualification and in the forfeiture of any right to a prize, in which case prize may be awarded to an alternate by random drawing.
8. RELEASE: By participating in the Raffle and/or accepting a prize, a participant/winner agrees to defend, release and hold harmless CBFS, and its parents, subsidiaries, affiliates, divisions, advertising and promotion agencies, and the foregoing companies' officers, directors, members, managers, employees, representatives, and agents (collectively "Releasees") from and against any actions, claims and/or liability for injury, death, loss or damage of any kind (including any for the violation or infringement of any proprietary or personal right of any individual or entity) ("Liability") resulting in whole or in part, directly or indirectly, from participant's participation in the Raffle, and/or participant's use, acceptance, or possession of a Raffle prize, and/or participant's participation in a Raffle prize-related activity. By participating in the Raffle and/or accepting a prize, a participant/winner consents to and gives CBFS the right to interview, photograph/video a winner, and in perpetuity to freely and exclusively use, publish, and display a winner's (and where applicable a participant's) names, address, entry form, picture, portrait, likeness, voice, video, statements, quotes, biographical information, and prize information (in whole or in part, as may be adapted, edited, or modified, as solely determined by CBFS) for advertising, trade, publicity and promotional purposes in any media now known or hereafter discovered, worldwide, and on the internet, without review, notification or approval, all without additional consideration, unless prohibited by law. Entries will not be acknowledged or returned.

9. CONDITIONS: Participants agree that by participating in the Raffle they release the Releasees from any Liability in connection with: a) Entries that are ineligible as a result of being lost, late, illegible, damaged, incomplete, stolen or misdirected; b) any typographical or other human or technical errors in the offer or administration of the Raffle, including but not limited to errors in advertising, these official rules, the selection and announcement of a winner(s), or the distribution/awarding of a prize(s); c) any omission, interruption, deletion, defect, delay, misdirection, damage, injury, technical malfunctions or traffic congestion on the Internet/telephone network, or at any website, or any combination thereof; or d) acts of God, natural disasters, or other force or matters out of CBFS's control.  CBFS reserves the right to modify these rules for clarification purposes without materially affecting the terms and conditions of the Raffle.  If for any reason the Raffle is not capable of running as planned as a result of but not limited to an error, omission, defect, delay, misdirection, tampering, unauthorized intervention, fraud, action of entrants, infection by a computer virus/worm, technical failure, natural disaster, act of God, disruption of the public markets, act of terrorism, war or any other cause which in the sole opinion of CBFS corrupts or affects the administration, security, fairness, integrity, or proper conduct of the Raffle, CBFS reserves the right at its sole discretion to withdraw, cancel, terminate, modify or suspend the Raffle without obligation or prior notice and in such event to determine the winner via random drawing from among all valid entries received up to the time of such cancellation, termination, modification or suspension. In such event, Releasees shall have no liability to any participant who is disqualified due to such an action. Failure to enforce any term of these official rules shall not constitute a waiver of that provision.
10. LAWS: Subject to all federal, state and local laws and regulations. Void where prohibited or restricted.
11. WINNER'S LIST: The winning ticket number will be posted at www.casebatbusters.org within 24 hours after the raffle drawing.